Our Services 
accelerate your mission and guarantee your success.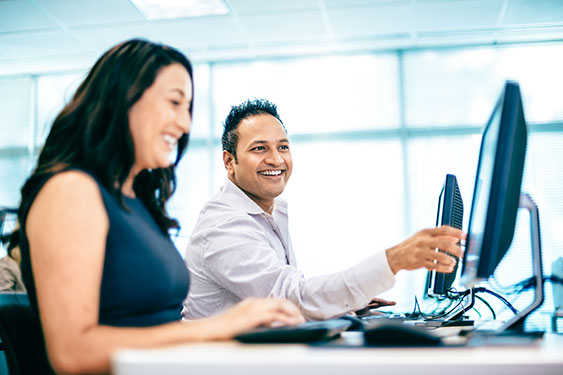 General Services
We offer customized services to provide your agency with the IT industry's best-of-breed tools and methodologies.  Being a next generation company, we sit on the cutting edge to ensure our customers are always ahead of the curve. 
Network Services
We take a deep dive into the assessment and planning of your network infrastructure.  Our highly certified staff will manage, improve, and maintain the health of your network, while monitoring performance and capacity.
Cybersecurity and Information Assurance
Our ISO 27001 information security management system combined with the NIST cybersecurity framework ensures the upmost security for our own organization as well as our customers.  Additionally, we provide solutions for Identity and Access Management (IAM), Multi-Factor Authentication (MFA), Data Loss Prevention (DLP), Security Information and Event Management (SIEM), Endpoint Detection and Response (EDR), and many more.
IT Operations and Maintenance
Around the clock, 24 hours a day, 7 days a week, our ITIL-based service desk delivers award-winning customer service.  Our proven process is a clear representation of our focus on making sure complete customer satisfaction remains our number one goal.
Virtual Operating Systems
We transform digital landscapes by designing and implementing successful Virtual Desktop Infrastructures (VDI), Virtual Private Networks (VPN), and other virtual solutions.  All our virtual solutions are backed by the best in the business such as Microsoft, Citrix, VMWare, and many more.
Data Center Management and Modernization
Our methodologies for managing the data center is centralized around maximizing security and resilience, while cutting costs.  Our industry experience also empowers customers to keep pace with the rapidly changing industry.
.
Continuity of Operations (COOP)
We offer highly secure, highly reliable, highly redundant data repositories and recovery services.  NGEN currently operates backup and disaster recovery services from a Tier 4 data center meeting the compliance requirements of the most confidential Federal agencies.
Cloud Services
We provide Cloud services with a level of security and availability similar to that of Amazon Web Services and Microsoft Azure, with a more cost-effective model.  Our Cloud services can be tailored to your mission.
Technology Business Management (TBM)
We leverage over two decades of experience and our quality assurance certifications to deliver CIO-grade consultations, which help our customers run their technology department like a business. 
Voice over Internet Protocol (VoIP)
As one of RingCentral's first partners in the Mid-Atlantic region, we have vast experience with VoIP systems.  We can provide deployment and management of VoIP systems for most if not all agencies.
Our Customers' Mission is Our Priority
Your success is our priority. As your trusted partner, we are always here for you to ensure your IT operations run securely, smoothly, effectively, and efficiently so you can focus on what matters most to your organization.

Maryland
4640 Forbes Blvd, Ste. 201
Lanham, MD 20706
Washington, DC
2007 Vermont Ave., NW, Ste. 2
Washington, DC 20001
Ohio
7367 Austin Powder Dr.
Glenwillow, OH 44139
©2022 NGEN All Rights Reserved
Maryland
4640 Forbes Blvd, Ste. 201
Lanham, MD 20706
Washington, DC
2007 Vermont Ave., NW, Ste. 2
Washington, DC 20001
Ohio
7367 Austin Powder Dr.
Glenwilliow, OH 44139
©2022 NGEN All Rights Reserved